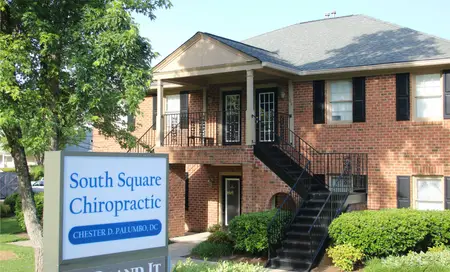 South Square Chiropractic
3626 Shannon Rd STE 102
Durham, NC 27707
Phone: (919) 490-5400
Fax: (919) 493-3188
E-Mail: [email protected]
South Square Chiropractic is located at 3626 Shannon Road in southern Durham, NC, between Martin Luther King Jr. Parkway and Old Chapel Hill Road. We are almost opposite the Southwest Regional branch of the Durham Public Library.
The office is in Suite 102 in the lower level of the building; our door is the closest to the parking area. Easy, handicap-friendly parking, next to the building.
* Missed Appointment Policy
We believe that all patients deserve respect, and that everyone's time is valuable. We make every effort to schedule appointments so that your visit is quick and convenient. We also try to ensure that appointments are available each day for those who have a sudden, urgent need for care. In order to allow maximum availability of appointments for all of our patients, we do require at least 2 hours advance notice for all appointment cancellations. If you will miss a scheduled visit and you fail to notify us more than two hours prior to your appointment, a No-Show charge of $25 will be added to your account. This fee must be paid prior to or on the day of your next visit.